CAMagic® PhoneLink Embedded Solutions
(for car kit, DECT phone, headset, car audio, medical device, gaming device...)
CAMagic PhoneLink is an embedded firmware solution that cost-effectively provides the functions of handsfree, Internet connectivity, multipoint connection, and data transfer to the Bluetooth enabled devices. It transfers not only phonebook (including contact names, multiple phone numbers, and SIM card data), but also call log, SMS, and other files. It provides the best compatibility and interoperability with worldwide popular mobile phones.
CAMagic PhoneLink also works as a turnkey software solution which integrates A&W's leading-edge technologies into different systems and application devices. It supports varied platforms and can be easily integrated into the existing firmware, and fine tuned for different devices. Updates for newly supported phones can be provided.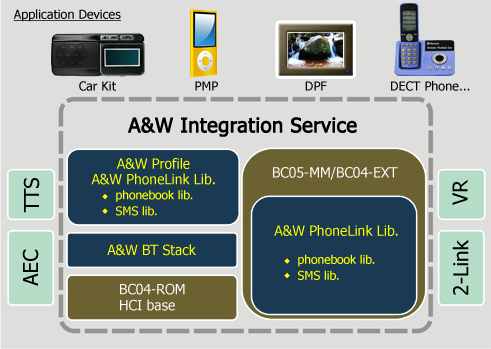 Note: Phoneook/SMS/call log are implemented in BC5-MM, BC4-EXT, or other RTOS environment.


Support CSR Bluelab, µC/OS-II, µ-Itron,
Nucleus, REX, other popular RTOS